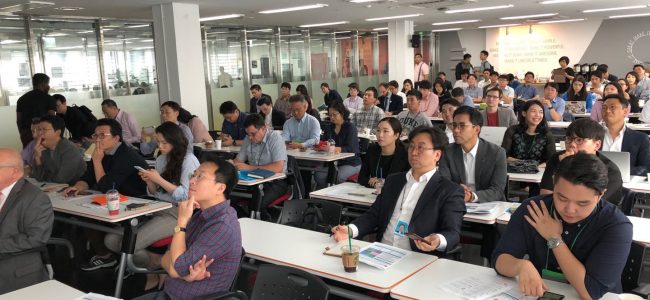 Orange Fab Asia in Seoul held its season 8 demo-day on 12th of September 2018 at Seoul Startup Hub, the biggest start-up incubation facility of Seoul city, with French Tech Seoul and G-CCEI Gyeonggi – Center for Creative Economy and Innovation).
A total of 17 start-ups from 4 countries (Korea, Japan, Taiwan and France) pitched and showcased their products in front of more than 100 participants.
6 start-ups from Orange Fab Asia in Seoul
3 start-ups from Orange Fab Asia in Tokyo
Empath : Emotion AI, which can identify emotion from the voice in real-time regardless of language.
Monit : Detects urine and feces separately with multiple sensors and pattern learning algorithm. Helps healthy growth of baby and relieves the burden of parenting.
3 start-ups from Orange Fab Asia in Taipei
DT42 : Local AI network. Machines in the network can learn from other machine or from videos and images that creates onsite.
UmboCV : Artificial intelligence company building autonomous video security systems for businesses and organizations.
Whatsquare : Creates multilingual chat bots with unique AI personalization engine enabling "conversational commerce" for retail business across messaging platforms.
3 start-ups from nationwide CCEI
Filaroid : Photo shooting application brings you the sense of film camera which delivers you printed photos when the films done.
CnRTech : Code Play Block, Physical coding blocks which children can code by assembling them to grow their logical thinking.
Masterbd : True random number generation using a non-quantal dynamic method for secure transaction.
2 guest startups
Wishpoke(Korea) : Social app where users can exchange gift ideas and help their loved ones find fitting gifts with an easy listing and buying process.
Aligo(France) : data pre-processing expertise helping its customers to improve substantially the effectiveness of targeting of new products.
At the end of the pitches from start-ups of season 8, the kick-off for season 9 was announced with 1 minute pitch from each new team.
5 Startups selected for Orange Fab Asia in Seoul Season 9